In This Circle at Audio West Studio
I met Ed Etzel when I was singing with the Harmony Brothers. We were looking for a recording studio to work on an album of tunes and got referred by a fellow musician to check out Audio West in West Sacramento. Since discovering Ed and Audio West, I?ve started (yet not completed) two different recording projects that resulted in a handful of tracks. With my latest album, In This Circle, I have finally crossed the finish line and produced an album I am proud of and happy with.
To read more about my studio adventures with In This Circle at Audio West, click any of these blog links: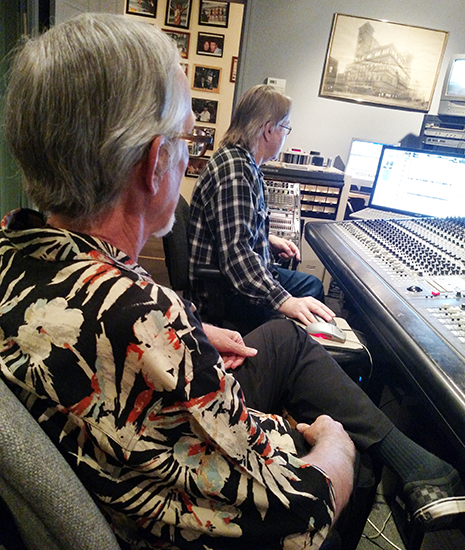 There are many qualities that I appreciate about Ed: his patience, humor, creative ideas and attention to details. Then, there are the stories about his encounters with major and minor musical legends. Most of all, I really like his down-home and friendly approach. I've always experienced being supported by him and respected as a musician and singer/songwriter. And, speaking of Ed's humorous nature, here are two of his infamous one-liners that he liked to use during studio sessions.
At the board working on the mix: "I'm going to (fill in the blank) because I can…"
When a musician is about to warm up on a tune before recording the track: "O.K., just getting levels now. Don't be brilliant!"
Ah, yes, good times! Thank you, Ed, for helping me create some new good times at Audio West.
This was my first endeavor as a full producer and I learned a lot! One of my biggest lessons was in working with other professional musicians in the Sacramento area. They ranged from folks younger than me to one of my musical elders. Also, the musicians who contributed to In This Circle represented a wide variety of musical styles from rock to blues to big band to folk to jazz to kirtan band. All of them are working musicians or have been earlier in their musical journey. I appreciate the time and talent they brought with them into the studio. And, I'm grateful for the contributions they all made to my musical labor of love. Kudos to all of you!
In This Circle studio personnel
Brian Rogers: Drum kit?
This guy is one joyous dude! You can hear his hearty laughter at the end of It Ain't Natural. He also rises to the challenge with perseverance and creative juice. He really worked hard at getting just the right drum shuffle on You Have Come Here for a Reason to bring it on home. You can check out more about Brian here.
Frank Huizar: Bass and fretless bass
If you want a bass player with fretboard attitude, he's got it to spare. I love his rubbery fretless bass on Thread of Love and his short, impromptu solo in the middle of Gaia's Voice. And, he's not above laying a simple country style bass groove like the one on You Have Come Here for a Reason. He's been a member of local blues band legend, The Soulshakers which was founded by his bass playing dad, Frank, Sr. I look forward to hearing him play upright bass one day. Keep it real, Frank!
I've included a couple of Franks' YouTube videos. One shows off his funkiness and the other one captures a cool guitar tune.
Paul Schwab: Electric guitar
I worked with Paul on my first album, Older and Wiser: The Bender Studio Sessions 1988-1991. He impressed and amazed me with his fast and fluid guitar playing on both electric and acoustic guitar. So, I was very happy to have a musical reunion with him in the studio this time around. From his pop-ska lead work on Brand New Day to his country picking on It Ain't Natural, he can still keep me guessing and interested in what he's going to pull out of his trick bag of guitar licks. Keep rockin' out, Paul!
Check out his hypnotic lead guitar work on Blood for Big Oil from the Older and Wiser album.
Ken Berger: Hammond B3 organ
I was introduced to Ken by Ed at Audio West. Ken is the kind of working musician who takes the term "working" seriously. Last I heard, he was playing in at least two local jazz bands. And, he knows the difference between playing a digital B3 and the real, analogue deal. I enjoyed what he brought to the party on Brand New Day and Gaia's Voice. And, he can play it tender, too, as proven on First Secret (for Stella). Catch him live around town and enjoy his soulful expression on the keys with Tony Elder and Westbound Groove or with the Jazz Artistry ensemble. In the meantime, check Ken's chops in this video:
Tom Charlesworth: Keyboard
I met Tom a few years back in one of my men's groups. Eventually, we got talking about music and I discovered he's been playing keyboard/ piano for years and grew up listening to and playing jazz. I know that Oscar Peterson is one of his all-time favorite jazz pianists. After playing a few live gigs with Tom around town, I knew I wanted him to come on down to the studio and grace my album with his inventive spirit on the keys. He dove right on You Have Come Here for a Reason. And, my guitar/piano duet with him on Daddy's Symphony would have put a smile on my old man's face.
David Clark: Mouth Harp
Dave is yet another of my brothers from another mother. I met him at the Sacramento Center for Spiritual Living in Carmichael and we just hit it off. I appreciate the way he expresses his authentic self. We've spent time in a men's circle and is a passionate public speaker from the heart and spiritual counselor. You can also read some of his deep thoughts on his website at truthdistillery.com. Now, Dave also knows how to get down on stage singing and playing his harp. Yes, he is one funky dude! He was the lead singer and harp player with The Soulshakers. Check him out in the video below.
Jon Merriman: Electro-acoustic guitar
Jon and I go way back to the mid 80's here in Sacramento. His Jon Merriman trio with Christian Heilman on drums and Richard Sigl on bass were a happy bunch of lads playing some tasty tunes! Since then, Jon has released three CD's of original tunes and covers.
In the studio this time around, he waved the wand of his magical guitar on my tune Water, Mountain, Sky and provided some Nebraskan twang with cool mandolin "flutters." He's also a well-versed live sound tech on the local Sacramento scene and was my sound guy at my album release party. I've enjoyed his self-produced YouTube series, Your Tuesday Morning Guitar Song. Sadly, it was cancelled by the producer last year. However, I hear it's coming back soon for all of you YTMGS fans. Here's one of my favorite songs played by Jon. You've still got the touch, Jonny!
Dena McKitrick: Vocals & Meadowlark Street Choir
Dena has been my main collaborative partner in creative endeavors over the last 15 years. Of course, we've also been married during that time! She is a soul singer in the deeper sense, as well as an inventive uke player who enjoys dabbling in piano playing, as well as other instruments. She's also a sensitive, Spirit-guided songwriter whom I've been blessed to co-write some great songs with such as It Ain't Natural. She sure seemed to have a good time talkin' and singin' with me on It Ain't Natural which we co-wrote, along with our good friend, Jeralynn. And, she graciously joined in to sing with the debut of the Meadowlark Street Choir on Thread of Love.
At her gentle and persistent urging, we co-created Souls Journey, an inspirited musical collective, and led community kiirtans in the Sacramento area for several years until it eventually morphed into the Souls Journey band performing at various spiritual centers. To hear one of our co-created songs with a spiritual, yet lighthearted edge, listen to this:
And, what you may not know about Dena is that she is what I have come to describe as a "maker." As a maker, she has a lot of life experience doing creative work in a multitude of mediums: acrylic & oil paint, sculpture, calligraphy, stained glass, creative writing, graphic design, and web design (to name only a few). To check out her fine art, go to her website at artistjoyful.com. To find out more about her other creative endeavors, check out DenaMckitrick.com.
Jeralynn Strong: Vocals & Meadowlark Street Choir
Dena and I met Jeralynn at Spiritual Life Center back in the early 2000's and we have been good friends with her ever since that time. As a matter of fact, all three of us sang together as members of the SLC choir during that time.
Jeralynn has performed as the lead singer in at least one country band that I know of and she also enjoys writing cowboy poetry which she's performed at various Country and Western shindigs like this one.
One of the greatest personal visions she has co-created in community was the much loved and appreciated Fairplay Farm in the foothills outside of Placerville. It was always an adventurous treat to drive on Ant Hill Road down the canyon to the farm. Yup, so many great gatherings happened there, including Souls Journey in the Sierra!
I've co-written a few songs with Jeralynn and one of those, It Ain't Natural, was recorded for In This Circle. It was a fun time for me when she came into the studio to sing and talk on It Ain't Natural, a country kickin' classic. Yeehaw! She also joined us on the debut of the Meadowlark Street Choir on Thread of Love.
To read more about the It Ain't Natural song and Fairplay Farm on my blog page, click here.
Karene Piccolo: Meadowlark Street Choir
I met Karene in Sacramento back in the mid 80's while I was attending my first Unity church. We had a mutual friend who took me out to Karene's farm in the country outside of Elk Grove. She loves to sing and has enjoyed playing flute for many years. I was happy to have her agree to sing with us in the debut of the Meadowlark Street Choir for Thread of Love.
She's been the guide and leader of Conscious Community in Elk Grove since 2008. Dena and I have participated in many gatherings there, such as celebrating the annual Solstices and Equinoxes. Karene has a vision of connecting folks with other folks in a good way to increase peace in the world.
To read more about Conscious Community, click here.
Chris Conyers: Meadowlark Street Choir
Chris and I met back in the early 2000's as fellow members of the NorCal ManKind Project community. We've been in the sacred circle together many times and have held space, in a good way, for each other in our spiritual journey into the sacred masculine. Aho!
Chris is a passionate singer and piano player and a man who takes personal integrity seriously. I was pleased when he agreed to join with us in the studio for the debut of the Meadowlark Street Choir. He was also a skilled ASE auto mechanic for years and has been a valuable resource for me in the past by helping to keep my cars in good running order. His young adult son is a drummer and an aspiring music engineer who has a vision of carrying on with the family tradition.
Joe E. Franklin: Meadowlark Street Choir
My good friend, Joe E., is an enigma, wrapped up in a riddle. He and I met one night at an open mic being held at a local coffee house in Sacramento. We discovered that we're both long time guitar players and have a deep appreciation for classic 60's singer/songwriters like Bob Dylan and Cat Stevens. As a matter of fact, he reminds me a lot of Dylan in an interesting, oblique way.
I love his original tunes and his zany sense of humor. We've spent lots of time together playing guitar, singing, talking about deep spiritual matters, and just having a good time laughing and musing about the peculiarities of the human experience. We also seem to mentor each other in being the best men we were born to be. So, it was a special blessing to have Joe E. join in the fun of singing with the Meadowlark Street Choir on Thread of Love. Sadly, he gracefully declined to have his photo taken for use in the album liner notes. Like I said already, this guy is an enigma which is another way of saying that he prefers his privacy. In the immortal words of another enigmatic figure, "Don't follow leaders; watch out for parking meters."
Bruce O?Brien: Bansuri Flute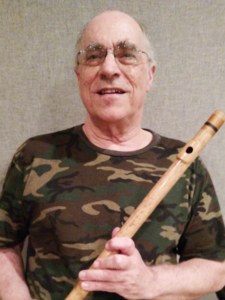 Bruce is not just a flute player. He's what I call a "multi." He also plays bass, guitar, keyboard, violin, harmonium, and pedal steel guitar. At least, those are the ones I know about. I've played with Bruce in the Souls Journey Collective for community kiirtans and at various New Thought churches in the greater Sacramento area. Over the years, I've come to marvel at his deadpan, yet sparkling wit. Yup, he's one of those low-key debonair guys.
I was inspired by his performance on Indian flute for Beauty Rises Forth. And, he was prepared to be serious for the session with a handwritten score. Good show, lad! Here's a tune that Dena and I wrote with Bruce playing bass.
Chuck Breitsprecher: Flugelhorn
Chuck has been playing horns for much longer than when I met him about ten years ago. When I asked him about playing on my album, I thought he'd play trumpet on Thread of Love. However, he advised me that flugelhorn would sound better on the track, so I didn't argue. I think that was a good choice. Chuck is also an experienced gemologist appraiser, as well as a geologist/ mineralogist. I guess he really likes rocks. If you're interested in hearing Chuck perform locally, check out the 2018-2019 schedule for the Rancho Cordova River City Concert Band.
Alicia Patrice: Harmonium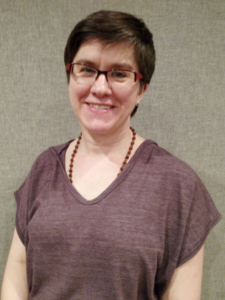 As a young man back in the mid 70's living in the Denver, Colorado area, I discovered Sufi dancing, as it was called in those days. Nowadays, the proper appellation is the Dances of Universal Peace (or, DUP, for short). I met Alicia (aka Nur Karima) at a local DUP back in the early 2000's. We've both been involved with our own kiirtan bands in Sacramento. She's the leader of the multi-instrumental kirtan band, Radiant Friend. Alicia provides both harmonium and vocals for the band. She kindly responded in the affirmative when I asked her to play harmonium on Beauty Rises Forth which really helped establish the dreamy, Eastern spiritual feel of the track. For more information about Radiant Friend, check them out here.
Alan Klein: Acoustic Guitar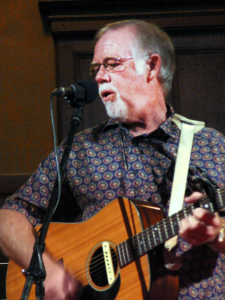 I sang and played guitar with Alan from 2001 until 2010, as a member of The Harmony Brothers, a local Sacramento folk music quartet. To read about some of my adventures with The Harmony Brothers, click here.
I've always appreciated and enjoyed Alan's steady guitar picking and smooth baritone voice. He's a solid songwriter, also. Alan's been picking and singing since his earlier days living in Kansas. You can hear his guitar picking deftly interfacing with my own guitar work on Water, Mountain, Sky.
Nowadays, Alan plays and sings with Dave Lyman (another Harmony Brother) in the local musical group, Vintage Fare. They define their sound as "amplified acoustic." To read more about them, visit their website.