Older and Wiser
(The Bender Studio Sessions: 1988-1991)
(Evolution of a singer/songwriter and a recording studio)
I made the acquaintance of Christian Heilman in the mid 80's. He was a drummer dude originally from Dunsmuir, CA. He had moved to Sacramento to begin his big adventure of life under the auspices of going to college. We accrued mutual friends (some musicians, some not) and helped organize various musical events and parties in the Sacramento area.
During the late 80's, I was experiencing one of the deepest musically creative periods of my life. I was performing on a regular basis at The Fox and Goose Pub in downtown Sacramento at Monday night open mikes and playing and jamming with other area musicians and singers.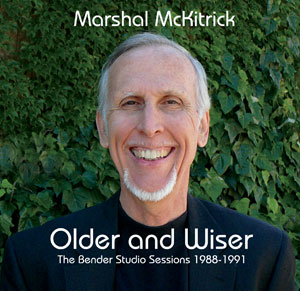 I was also collaborating on songwriting with various fellow singer/songwriter-musicians. During this time, a lot of poems, lyrics, and songs were coming through me. The Muse was really working me over good and I was in a place to listen and take dictation.
 At some point, Christian became housemates over in Curtis Park with another musician by the name of Ted Weatherford, a passionate guitarist with a good sense of humor. Together, these two blokes cooked up the idea of putting together a home recording studio, so they could work with other musician friends and whoever else might show up for the party. Those were the humble beginnings of Bender Studio. Where that name came from exactly, I don't know or recall. I do know it was a moniker that Christian came up with from somewhere in the attic of his creative thoughts.
I had done very simple recordings of original tunes a few times before this by myself and with other folks in the early/mid 80's on basic recording equipment; even once in a studio with decent gear. However, I never really liked what was captured on tape and didn't fully connect with the folks who were engineering for me. After talking with Christian about recording my own tunes once again, I was inspired to go for it. This time around, I felt different about the recording process. I had hope and inspiration and a belief that something big was about to happen. Also, this time around, I had the support of a creative partner who wanted to co-create and get "music crazy" with me. My musical egg was about to hatch big time.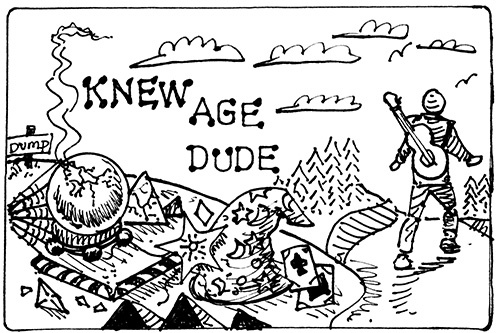 Knew Age Dude
My first recording project with Christian unfolded in the fall of '88. I dubbed it Knew Age Dude. Yes, it was a pun (and a poke) about all of us "New Age" types living out our alternative lifestyles on the planet (as in, "I wish I knew now what I knew then"). I had started working for the State of California the year before and finally had some "extra" money to spend on my musical expression. Christian had set up two reel-to-reel tape decks and assorted gear out back in a small and funky garage that was loosely converted into a recording studio arrangement. Armed with a handful of original songs and ready to lose my message onto the world, I began to record with Christian co-producing and engineering and me arranging, singing, playing guitar, stressing out, and dreaming big.
 Four of my original tunes were recorded in true "Sergeant Pepper" style; bouncing tracks between the two four track tape machines to get multiple tracks for lead and back-up vocals, extra guitar tracks, and simple percussion. Here's what Christian had to say about our first studio collaboration, "I totally agree that the echo is sometimes exorbitant on the tracks. But, hey, that was the mix made at that time. It's like old 60's recordings, they smell like the environment/equipment/people involved."
After recording these songs in the "garage" version of Bender Studio, Christian and Ted moved it into the front room of the house and we got more comfortable for the music mix down. (Fall had turned into winter, after all, and there was no heat out in the garage.) Here's the breakdown for each song on Knew Age Dude. It includes notes from myself and Christian.

Glass Boxes
(Marshal) This is my ode to being a state worker (aka The State Worker Blues) facing the beast of bureaucracy and the paradox of being a civil "servant." I combined my state worker experiences along with my observations of the big and tall buildings that were being built in downtown Sacramento at the time. Also, around this time, I had read Ayn Rand's book, The Fountainhead, and was inspired by her impression of architects and their impact on society. When you listen to this song, you will hear maracas in the background. Christian and I made a joke about turning the song into a full-blown mariachi tune, complete with trumpets and the rest.
(Christian) This may have been the first tune ever recorded by me and written by someone else. Of course it's rough and echo filled, but it also smells of Sacramento vintage shed and spinning reels of tape. I always thought it was sort of your reaction to seeing and being part of the daily work masses downtown. And no, you never let them "buy your soul"; I hope! The murky percussion is a nice touch. This was done in the days before using compression or decent mics. I like the "dee-dee-dees" toward the end.

Never Left Home
(Marshal) This song is from my personal teen angst experience of being an immature man; blaming my funky stuff on my parents. I was in my mid 30's at the time and I had more growing up to do still. This is one of my darkest tunes and an honest expression of my feelings. Ted Weatherford added to this dark atmosphere with some tasty lead guitar and stayed out of the way of my emotionally charged lyrics. Gratefully, I have moved on from that place in the years that have followed by doing emotional and spiritual work, which included forgiving my parents for their shortcomings and mistakes. I don't recall singing this one in public and I have no plans to at this point of my life. Some creative expressions are meant to be a personal catharsis only and not for public consumption. (John Lennon's tune, Mother, notwithstanding.) This one will not be included on the CD. If you want to hear it, click the play button below. For a free download of the MP3, right click here and "Save link as" to your hard drive.
(Christian) This was the first emergence of the unique electric guitar stylings of Ted Weatherford. We loved getting other musicians to play on MM tunes. More echo abuse here; "as I fall-fall-fall…" It had more lo-fi folkiness with obvious emotion in the vocal.

River City Trouble
(Marshal)?A song inspired by social events of the time.The national savings and loan scandal had hit and folks were losing homes and money over it. Also, salmon in the Sacramento River were being affected by the water level, due to a drought year going on and the continuing practice of shipping water from Northern to Southern California. I love the old-timey feel of this tune and I still dig my recorder solo in the middle. It reminds me of something out of a Little Rascals movie.
(Christian)?The vocal distorts in a bluesy kinda? way. I am struck by the inadvertent funkiness in these older recordings. Endearing and annoying. As an engineer, it?s hard to find joy in the mistakes and limitations of the day. But a wooden recorder solo always brightens the day! Actually your voice and the recorder sound cool to me now. Check out the layered lyrics on this song. This tune must have killed at the Fox and Goose Pub, back in the day. Many of these same issues still remain.
Moonlight
(Marshal) O.K., I admit it. I'm a sucker for those major 7th chords. They're just so pop-jazzalicious! Like a lot of my early songs, this one came out of a poem I wrote. For me, it's a sweet and breezy lullaby for a late evening. And I just love the tasty guitar solo that my friend, Jon Merriman, laid down for this tune. I'd like to make a cool music video of this one. I love to listen to this one and dream on moonbeams.
(Christian) Ah, Jon Merriman on big jazz guitar noodling. I miss him. He was my partner in the Jon Merriman Trio for quite a while. I like the contrast of his lines, your vocals, the reverb "ahs" in the background, and your folksy guitar. The whispery bits are kinda corny, yet enjoyable. Nice singing on this tune. The solo is classic Jon Merriman. Lots of clunky Merriman clams hidden in the verses. And it all makes me smile. We must have laughed a lot making this music.
After I completed Knew Age Dude, I sent copies of it to my family for Christmas gifts and, of course, they loved the music. What can I say? That's what family does. So, now I was on a roll with recording my songs and I was "bitten" by the studio bug. I wanted to record more and continue this creative process. Christian was a good musical foil for me to work with, plus the fact that he had the recording equipment and growing technical knowledge and I didn't.
How Time Flies
With my first recording project under my belt and captured on tape, I approached my next project (dubbed How Time Flies) with anticipation and zeal in the spring of '89. The tape package for How Time Flies included a cover graphic by my supervisor, Bruce Gordon, who I worked with at my state job. Now, that's real support from a co-worker!
We still had the reel-to-reel tape recorders to work with and, being in the front two rooms of the house, we now had the ability to record live with Christian's drum kit. Plus, we now had elbow room for other singers and musicians to come in as session players. The session players continued to be Christian, Ted, and Jon with the addition of Heidi Puckett on bass for one of my tunes. There were other local singer/songwriters and musicians starting to come to Bender Studio around this time to lay down tracks for their own tunes and, later on, we would work together on other recording projects. We were co-creating an experience of musical community and sharing our treasures and discoveries with other folks.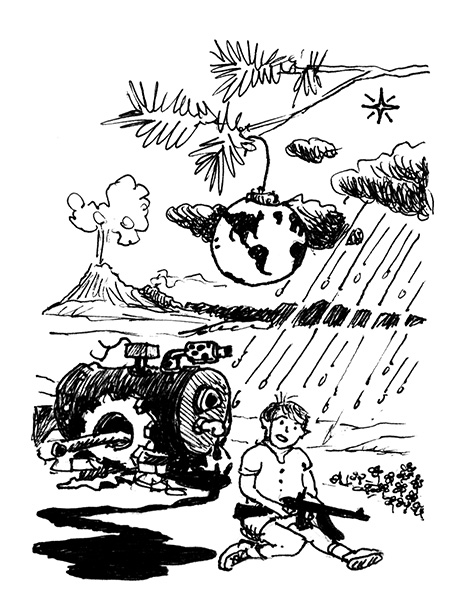 Here's the breakdown for each song on How Time Flies. Again, it includes notes from myself and Christian.

Christmas Light
(Marshal) In my childhood, I grew up singing in church choirs. My father doubled up as the minister and the choir director. This song is filtered through all those years of singing choral music, including all those Christmas carols I grew up singing harmony on. If you're a fan of Christmas related songs, may you connect with the spirit expressed through this tune. I did have the opportunity years later to play this one live at a Sacramento church during the Christmas season with a real trumpet player, instead of the keyboard trumpet heard on this track. Wow, what a difference a real trumpet made on this song! This song will not be included on the CD. If you want to hear it, click the play button below. For a free download of the MP3, right click here and "Save link as" to your hard drive.
(Christian) On listening to it now, this song to me sounds inspired by Sting's song "Russians". Like a sad lamentation on winter being somehow illuminated by the holiday's coming. This was the first sequencing project done at Bender Studio.
I think the tape deck was reserved for 3 vocals, and one track was the sum of the 2 sequenced synthesizers. A Roland Juno and a cheap Yamaha FM synthesizer were used. I like the middle harpsichord section. This was the first tune to add sound effects, too. Plus, we had moved indoors from the garage by now, and had added the TEAC board and, possibly, better mics. Tape decks were now properly cared for, so add the smell of alcohol in there.
Earth Changes
(Marshal) This one started from a poem of mine that has powerful nature imagery in it. This was my first folk-rock tune and I really love the Hammond B-3 patch I played on it! (Thanks for the keyboard coaching on this one, Christian.) This was also my first tune recorded with a live drum kit and real bass guitar, instead of keyboard bass. I've played this one live a few times at gigs and it's a real crowd pleaser. You can even dance to it, if you want to.
(Christian) One mic on the drums; a stereo mic throughout with cheap gated reverb on that. That's Heidi Puckett tearing it up on the bass; very rocking. The organ smells very cheesy. Again, we were coincidentally retro in a beautifully ugly kinda' way. Wish I had made your vocals a little louder and the organ a little softer! I guess I am just "going along for the ride." I don't remember how we recorded this. I think we started with guitar and drums and overdubbed vocals and bass, and, of course, organ mania.
Irish Tears
(Marshal) As with most Americans born in the states, I have a mixed bag of ancestors. On my father's side of the family, I have Scots ancestors in my family tree of genetic code. When I was young, I heard the term "Scots-Irish" and somehow came to believe that my ancestry included both Scots and Irish. Apparently, the more accurate genealogical term is Ulster Scots. Later in life, I have learned that my Scots ancestors migrated from the lowlands of Scotland to Ireland in the early 17th century in order to work on the Plantation of Ulster. So, maybe there was intermarrying between my Scots ancestors and Irish folks during that time; I don't know. I actually played this song for a friend who moved to the States from Ireland and he liked it so much that he wanted a copy of it. I recorded this one as a collage of sound, spoken word, and music. What you hear at the beginning of the tune is the sound of rain falling with bagpipes sounding off in the distance before the recorder and voice come in, followed by Christian on the snare drum.
What I was trying to do with the voices coming in and out of the tune (as well as with the whole song) was to paint a vocal collage of the "troubles" in Northern Ireland that still continue to this day. It's a sad state of affairs, indeed. Please forgive the muddiness of the voices and the weak Irish and British accents that I attempted. I would love to re-record this song with the vocal parts spoken by real Irish folks and authentic Irish musicians playing on it. This one will not be included on the CD. If you want to hear it, please email me and request a copy of the MP3.
(Christian) Cool collage and effects. The fading of your recorders from the bagpipes is cool in an ambient way. We had way better acoustic guitar and vocal sounds on this one. We must have upgraded the mics, for sure. My drumming is random bleats on the floor tom, pumped through more cheaply gated reverb. I just noticed your recorder vibrato closely resembles your voice vibrato. This song sounds like analog tape. I like how the faraway guitar chords peek out for a moment on the fade out.
Who is John Galt?
(Marshal) After I read my second Ayn Rand novel, Atlas Shrugged, I was inspired to write this song. I borrowed the title from a recurring line in the book. I was struck by the idea of a capitalist hero who decides to quit producing. It has a certain "off the grid" tone to it which appeals to my Green socio-political sensibilities. Ted really rocks out on electric guitar for this tune and I like the interplay between my acoustic guitar rhythm work and Ted's electric guitar. I can hear a newly recorded version of this one with me switching over to electric rhythm guitar to match up sonically with the electric lead guitar, along with a live drum kit and bass to really pump it up. Maybe I could sell it to some political rock band for a future album. Hey, stranger things have happened!
(Christian) I can't imagine this tune without the "Tedster" on it. He adds some vital Pete Townshend-type flourishes and chordal stabs; very nice. I'm on digi-percussion here. I think Ted literally catches on fire at some point. I wish I would have just beat on some household objects, instead. Don't worry, that came later. All on delicious analog tape, even the mixdown. I can see Ted stomping on something to change the tone. Ah, yes, Rockman love.
Four Corners
(Marshal) I was inspired while returning home from the East Coast to California one winter and the plane flew over the four corners area of the American Southwest. The area is located where the four corners of Arizona, Colorado, New Mexico, and Utah all meet. It is the only point in the U.S. where the corners of four states intersect. On a deeper level, it is a sacred area for the Navajo and Ute tribes. There is a point-of-view flip in the bridge of the song where the ancient Spirit of the land is observing me in the plane passing overhead. This is one of my favorite songs and one of the most spiritual pieces that has come through me. Once again, my good friend, Jon Merriman, laid out one of his tasty and soaring guitar solos. Nice stuff…
(Christian) This one features Jon Merriman on awesome folksy guitar texture and solo. This one has a digital reference in the lyrics ("digital noise is all I hear") during the pre-digital era at Bender Studio. It's one of my favorite MM melodies. The vocals are soulful and relaxed.
With How Time Flies in the can, I turned my attention to more musical inspiration and songwriting while continuing to play at the Fox and Goose open mic night on Mondays. I was also playing at coffeehouses and parties in the Sacramento area. I had begun writing many songs before starting my first recording project, Knew Age Dude.
New Territory
This all led me to my third recording project at Bender Studio, New Territory. This one would prove to be my final project at Bender and it was, in many ways, my personal best up to that time. So far, I had recorded two projects with the support of a few session players who were mostly friends of mine. This time around, I was really inspired to work with more musicians and to create more complex arrangements for my songs. I pulled out more of the stops and invited six different musicians/vocalists to join me for some musical co-creation. Once again, my co-worker and friend, Bruce Gordon, created another cool album cover for me. Nice work, Bruce!
Here's the break down for each song on New Territory. Once again, it includes notes from myself and Christian.
Invisible
(Marshal) Inspired by an experience of observing dragonfly swarms while I walked amongst unknown fellow state workers on Capitol Mall in downtown Sacramento. It was also mixed in with my impressions of seeing the film, Barfly, loosely based on the life of Charles Bukowski, an alcoholic poet and novelist who has been referred to as "the poet laureate of Skid Row" in Los Angeles. This tune has a tasty brew of stylin' trumpet lines by Dale Head, kickin' bass work by Nick Willow, and a "curious" guitar solo, again by Jon Merriman. Also, it has some cool "found" percussion/sound effects by myself and Ted Weatherford, including one slammed door by Ted. Oh, yeah; great fun was had in the studio!
(Christian) Ok…now here's the masterpiece of the bunch. Everything about this one makes me smile. Imagine a front room filled with things we found around the house that make noise; scissors, tools, wood, kitchen implements. Nothing went "unbanged" by Ted, MM, and myself. Dale Head paints amazing trumpet lines reminiscent of Herb Alpert. The bass is amazing. My drumming is passable (the mono-mic technique was still in effect) and it grooves. Yes, we had big fun.
Can you tell?
Older and Wiser
(Marshal) I must admit that I was sonically inspired for this song by the tune, When I'm Sixty-Four, by Lennon/McCartney and the vocal stylings of Rudy Vallee, an old crooner from the 1920's and 1930's. That's me playing the digital keyboard clarinet and also an analog kazoo for the ending. Oddly enough, as I continue to grow older (and, I hope, wiser), pieces of this song have become true for me (well, at least the part about the grey hair).Remember the key phrase in this song as you journey along the road of Life, "Don't laugh, this could be you…!"  I'm learning to cherish the elder spirit that expresses through me and those who are my true elders. In my opinion, conscious elders are a natural resource that is still not being properly utilized in our culture that continues to be overly focused and obsessed with being and looking young. Getting old is not for sissies.
(Christian) This song has some more interesting sequencing. The vocal is treated (with the Rockman?) to invoke a Beatles aroma. "That's right!" That's very Zappa. The "bah-oohs" are hilarious. This song obviously doesn't take itself too seriously.O.K., cue the kazoo! I totally overdo the digital drums at the end. Silly stuff, this.
Owls at Twilight
(Marshal) Back in the 80's, my sister sent me a very short story written by her son, Michael, who was in early grade school at the time. I was inspired by the pure imagination of his story to write a song. Thank you sharing this with us, Michael. This was my first children's song. As usual, many thanks to Christian for his effective keyboard coaching on this one. Pan pipes and keyboard saxophone rule! It would be cool to make a whole album of kid's music. I'll own that Raffi is one of my favorite songwriters for kids. What a great blend of play with serious musical creativity! Owls at Twilight is another song I would like to make into a music video. In case you're wondering, that's a recording of a real owl and bullfrog you hear on the song, along with the crickets. I enjoy drifting off while listening to this song. It's a sweet lullaby for young kids to listen to. I invite you to let that little boy or girl living within you to enjoy this one.
(Christian) The Peavey DPM3 workstation keyboard, owned by Jon Miller, provided the sonic ingredients for this sequenced tune. I really like the fake baritone sax. Another catchy melody and outro. The frogs are hilarious in their placement in time. Yes, they're real and off of a sound effects CD I bought (and still have) that has all animals on it.
The Waiting Room
(Marshal) Yup, you guessed it. This is one of those broken relationship songs; a metaphorical "good love gone bad" tune. For me, it speaks to all those times when I sat around waiting for change to happen or, at least, for my pain and confusion to go away. If you relate to what I'm expressing in this tune, then I've communicated my experience well and my condolences for your heartbreak. This one reminds me of an old Fleetwood Mac tune. And, I really love the Jethro Tull style flute played by Paul Boutiette here and the ominous and odd lead guitar work by Paul Schwab.
(Christian) I remember some Bender Studio Christmas Party rocking this tune out live. Here the drums (and bass) are sequenced, but everything else is played humanly. The flute is nicely played giving it a very '70's vibe. Paul Schwab adds a lot with his electric guitar parts. Jammin! "Wait!"
Beauty Is
(Marshal) This one is a seriously dark song about how we humans project fantasy thinking onto others, create dysfunctional relationships, and then cause suffering for ourselves and others. This song is about the experience of living in the shadows and "in one's own head," hence not really connecting with another. It's meant to be a cautionary tale. Nice bass work and soloing by Nick Willow on this one, as well as great acoustic solo guitar lead by Paul Schwab on my old Epiphone acoustic guitar. Steve Montgomery even played rhythm guitar on this one. To paraphrase Christian, "This song is radio ready."
(Christian) Steve Montgomery played rhythm guitar on this and it sounds awesome. Paul Schwab adds some very tasty Jimmy Page-like acoustic solo parts weaving in and out of the vocal. Nick Willow is busy, yet perfect, with the low end, essentially water painting on bass. I'm mono-mic acoustic kit drumming on top of the sequenced drums, which sounds cool to me now. We're definitely 8- track by this point. The house was bustling with activity in those days and we had lots of session cross-pollination. Those were wonderful times.
The last two songs were not part of the New Territory project. They were my last tunes recorded at Bender Studio; one of them an original and one a musical collaboration.
Blood for Big Oil
(Marshal) I wrote this very topical tune in 1990 after then President Bush started the Desert Storm campaign in Iraq. It was recorded in '91.The song idea came to me while I was driving somewhere, pondering the clouds in the sky and the impact of war on the world, as well as our dependence upon oil as consumers.When you listen to the last verse, you'll hear my reference to our part in the global addiction to oil consumption. The "Seven Sisters" lyric in verse one refers to the seven oil companies which formed the "Consortium for Iran" cartel and dominated the global petroleum industry from the mid-1940's to the 1970's. Currently, there's a new "Seven Sisters" group made up of companies based in countries outside of the OECD.
Musically, Paul Schwab "tore it up" here with his electric guitar lead work on this one. I visualize whirling dervishes while listening to it. Also, Christian had fun with digital drums. Both Christian and I had fun with the sound collage leading up to the music (camel bleating, choppers and jet fighters overhead, and general desert ambiance). If you're disturbed after listening to this song, then you are paying attention and the song has fulfilled its purpose.
(Christian) A sinister tune, this one, once again built in sequencer land. It's amazing, how true this tune turned out to be. Paul Schwab is extra blistering on rocking guitar. The timpani during the "blood for Big Oil" verses sound remarkable. The vocal treatments are terrifying. SPX90 pitch shift! Almost sounds like a protest song written by Spinal Tap. Paul Schwab is super awesome on this and that is all. It sounds great; among the last recordings made at the original house.
Morning Lake
(Marshal) This was recorded around the time I recorded Blood for Big Oil. It was a collaborative experiment in the studio between Bill Hunting, Dale Head, Christian, and me. Bill played midi guitar on this one and he really set the tone for the whole song. This is the only fully realized instrumental song I've been part of recording on, so far. There's a certain freedom in focusing on the music without any words. It always reminds me of music from some sci-fi soundtrack while, at the same time  having the feel of dawn on a lake out in the wilderness. Well, maybe it's a lake on another planet given the cool synth guitar sounds along with Christian and I playing the Moog keyboard. It also has some tasty licks played by me on the recorder and a strange hornpipe exchange between me on recorder and Dale on trumpet. Nice work, Dale! Since there is no clear copyright on this tune and out of respect to my fellow musical collaborators, I've chosen to not include it on the CD. If you want to hear it, click the play button below. For a free download of the MP3, right click here and "Save link as" to your hard drive.
(Christian) This was a more experimental instrumental piece with Dale Head playing a touching, searching horn part. Your recorder is plaintive and mixed low. This one features Jon Merriman's synth guitar that he had at the time, as played by Bill Hunting. More effects appear. Crickets make everything sound better. This was after I discovered the music of Brian Eno and Daniel Lanois. The muted trumpet stuff is killer. The buried synthesizer lines are really neat. A sonic journey unlike anything else you ever made at Bender. Listen to Dale's last note there. Wow! Cue the crickets.
For all you music trivia junkies like me (and for the folks who actually have the original cassette albums), here's a listing of tracks as they appeared on each album.
Songs for OLDER AND WISER CD
Album: Knew Age Dude
Glass Boxes
Never Left Home (not on the CD)
River City Trouble
Moonlight
Album: How Time Flies
Christmas Light (not on the CD)
Earth Changes
Irish Tears (not on the CD)
Who is John Galt?
Four Corners
Album: New Territory
Invisible
Blood and Gold (not on the CD)
Older and Wiser
Owls at Twilight
The Waiting Room
Beauty Is
Not on any album:
After completing New Territory in early 1990 and Blood for Big Oil in early '91, I decided to put my music on the shelf and "get on" with my life for personal reasons. I must have thought it was time to grow up and be more responsible. It's still a mystery to me. That long musical "break" lasted for over ten years until, early in the new millennium, I began to pick up my guitar again and resume songwriting and performing.
Eventually, I had the idea to assemble all of my Bender Studio sessions into one retrospective collection of songs. It felt like a good way to honor all the great times that Christian and I had recording in the studio with our musical community of the time. To paraphrase an old tune; "It was over twenty years ago today!" Hey, I figure if Rhino Records can pull it off with all those re-masters and re-issues of artists and bands from the sixties and after, it just might work for me, too.
So, there you go, ladies and gents. This is my ode to all of the good times I shared with my musical mates at Bender Studio. As Christian and I used to say back in the day, "Ah'm goin' to Bender!" Enjoy the tunes, everyone!
(from Christian) This music represents the start of a dream for me. Marshal allowed himself to be the artist, while I got to play with producer and engineer roles for the first time. We rarely got testy or negative about anything. It was almost all unbridled fun and creative joy. We involved a community of musicians and made the music in a very comfortable, safe place…the cozy home studio environment of Bender Studio. Many thanks to muses Ted, Nick, Paul, Steve, Jon and any other musicians or supporters along the way of this particular musical journey. I have always felt like studio recording is an amazing way of documenting a time, a scene, and the unique vibe that was in the air during those days. We were creative because we didn't know enough not to be anything else. We dealt with our technical limitations and tried to do the best we could with what we had…which wasn't a lot. Good times lead to good music, I say. Cheers!   [Christian Heilman – 8/25/09]