In late August 2018, I completed the final stage of a four plus year musical project. Yes, it was the auspicious occasion of the album release party for my latest album, In This Circle. Wow, what an event it was! There was even a full moon that evening which lent a nice touch to the proceedings. During the week leading up to the party, I was visualizing myself nearing the end of running a long marathon, as I could hear folks at the finish line cheering and encouraging me to bring it on home.
About 40 folks showed up on a Saturday night to celebrate the accomplishment with me and enjoy some great live music. Of course, that crowd count doesn't include the musicians and singers who appeared on stage with me, the sound tech, the videographer, and that guy at the ticket/CD table (my son, Kabir). Dena organized and whipped up a bountiful table of delicious refreshments and beverages which helped put the "party" in album release party and created a most festive celebration. I don't think anyone went home hungry that night!
Looking for Space
The release party was held at the Friends Meeting Hall in East Sacramento in their main meeting room. The octagonal shape of the room has nice acoustics and there's plenty of natural light coming through various windows and one skylight. Those were two of the reasons that I chose the venue. Another reason was all the great energy that has been imbued in that space by the folks attending the Dances of Universal Peace (DUP) held there twice every month. You can find out more about the Dances here.
Of course, every week the members of Sacramento Friends Meeting gather in that same room in silence to commune with the divine presence in their midst. So, that grounding energy pervades the space as well and is reflected to all who cross the threshold.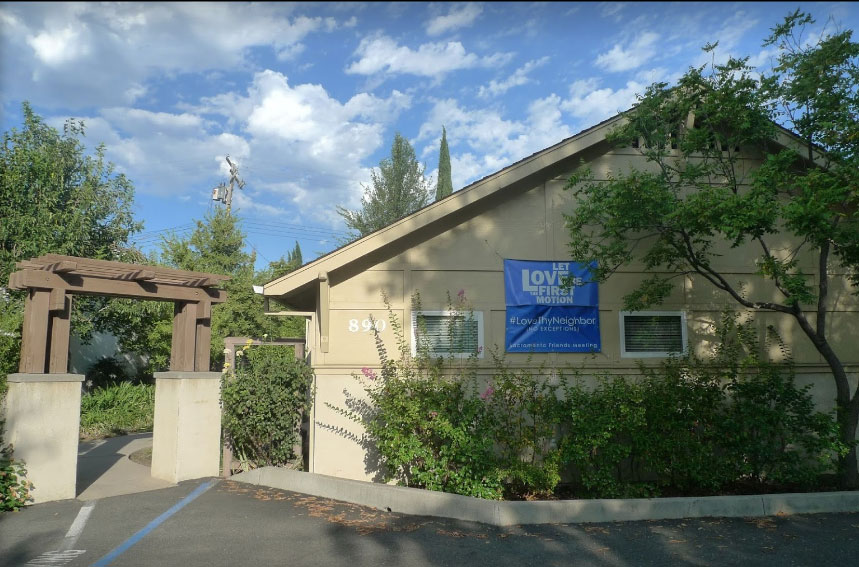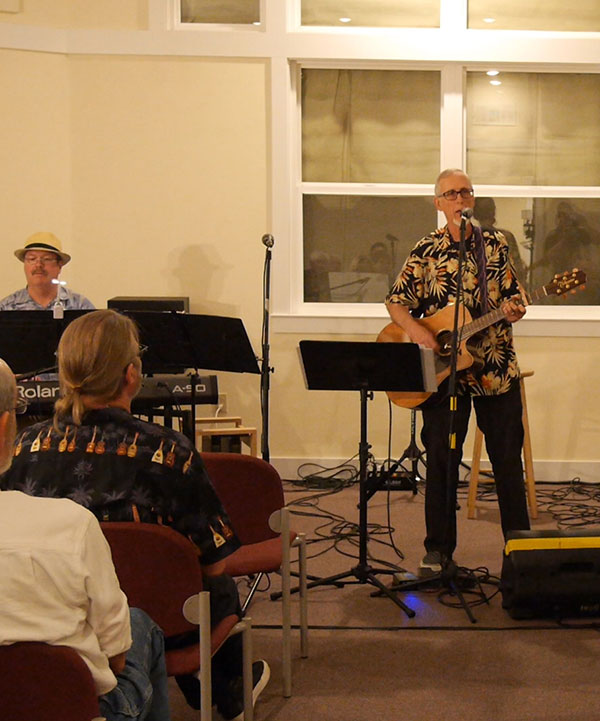 I'm With the Band…
The core band line up for the evening included myself on guitar and vocals, Tom Charlesworth on keyboard, and Bruce O'Brien on bass, violin and flute. We were joined by Dena on ukulele and vocals, David Clark on mouth harp, and Jon Merriman on guitar. All the musicians and vocalists that performed at the album release party, also appear on In This Circle as studio personnel, along with other guest musicians and vocalists. I really appreciate my fellow creatives showing up to give of their time and talent and co-create with me to manifest my musical vision. Well done everyone; you were all a part of something unique and special! For more information about the album's line up of musicians and singers, click here to read the liner notes on my blog.
I, and the other musicians, played two sets that evening with an intermission. The first set of music consisted of all twelve tracks from In This Circle with modified arrangements for live performance. Some of my favorite musical moments were David Clark and I rocking the house with No Changing the Truth and Gaia's Voice. Another special part of the first set was sharing my tender family ballad, Daddy's Symphony, with the audience. One of my good friends came up to me at the intermission to let me know that tune really moved him, as the father of his own son.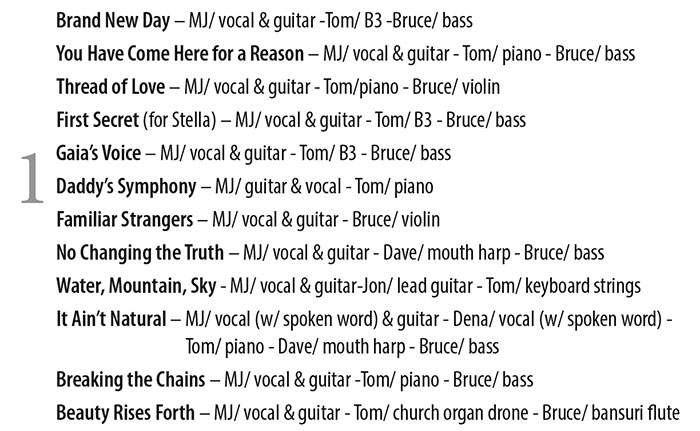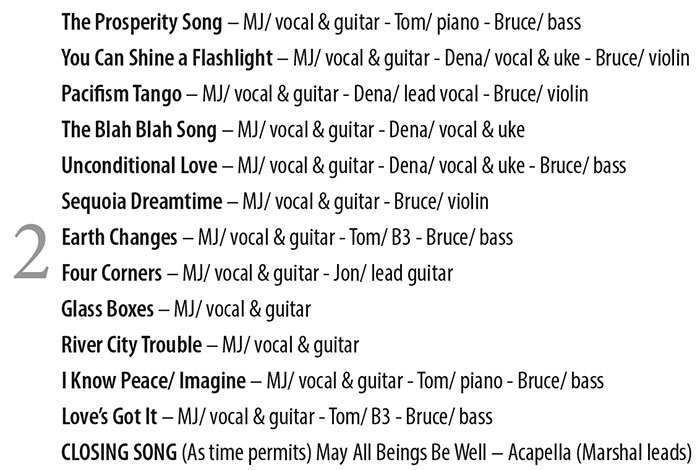 The second set included a few Souls Journey tunes sung and played with Dena and Bruce, other original tunes of mine in solo and duet settings, and a handful of Spirit-sized tunes for good measure. One of the highlights of set two was my duet with Jon Merriman playing lead guitar on Four Corners, one of my classic ballads dedicated to Mother Earth. Another crowd pleaser was The Blah Blah Song, a tune written by Dena. Every time we sing the first chorus on that song, we get a good laugh from the folks in the audience. It seems to strike a chord of familiarity in a simple, understated way. We ended the evening with everyone joining hands in a large circle around the room to sing a DUP classic, May All Beings Be Well.
Props for Completing the Journey
Wow, what a journey it has been to complete In This Circle! And, I could not have done it without a lot of fellow collaborators working with me. Right here, I must give special props and appreciation to my main creative collaborator and wife, Dena. Without her, there would be no beautiful album artwork and design and no spiffy newly refreshed and redesigned website. She went way beyond the regular call of duty in loving support of my creative expression and I am truly humbled by her most gracious giveaway. Thank you, Dena! My other big collaborator on In This Circle was my engineer, Ed Etzel, owner of Audio West. Ed, you make me sound good and bring a special depth to my musical creations. I appreciate you!
All in all, it was an amazing expression of living my vision and purpose in life and I felt blessed, supported, and appreciated. Thank you to everyone who helped make this a very memorable experience!