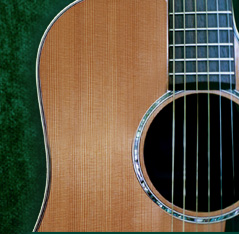 This week, I'm writing about one of my all time favorite George Harrison songs, "While My Guitar Gently Weeps." It's been covered by various artists and in different contexts over the years since being recorded and released on The Beatles' White Album in 1968.
It's All in the Arrangement
Recently, I watched an animated film called Kubo and the Two Strings. During the end credits, I heard a cool and surprising version of "While My Guitar Gently Weeps." I was reminded once again that the beauty and power of a song can be reframed simply by changing the instrumentation. Or, in other words, it's all in the arrangement.
The song goes in an easterly direction with a combination of shamisen (Japanese lute), shakuhachi (Japanese flute), koto (Japanese harp), and taiko drums. Also, included in the song's arrangement is a strong vocal by Regina Spektor. There is also the almost obligatory orchestral section usually used for film scoring, along with choral voicings. Here's what I found on YouTube. I invite you to give it a listen and see how it moves you.
The Esher Demos
As the story goes, Harrison began writing the music and some lyrics for "While My Guitar Gently Weeps" during The Beatles visit to India in early 1968. He completed writing the lyrics at his mother's house after returning back to the UK. Afterwards, a demo version of the song was recorded by The Beatles at Harrison's bungalow in Esher, Surrey. There is a general opinion that a number of other demos were recorded in that same session. And that most of them were re-recorded and completed to appear on The Beatles White Album.
The Love album – While My Guitar Gently Weeps
In November 2006, an album of remixed and re-mastered Beatles music, Love, was released. It was co-produced by Sir George Martin and his son, Giles Martin. The album was tied in with a new Cirque Du Soleil show in Las Vegas. This version of "While My Guitar Gently Weeps" blended George's vocal and guitar from the Esher demos with a new orchestral arrangement written by producer George Martin.
Martin says he was petrified doing it, but George's widow, Olivia, came to the recording session for the strings and loved it when she heard it played. "It's pretty significant," said Martin. "It's the very last score ever to be written for a Beatles song." His son Giles said, "That's the only added music in the show, that new string arrangement by my Dad."  Source: thoughtco.com
Also, this version of the song included a verse from Harrison that was not included in The White Album.
I look from the wings at the play you are staging
While my guitar gently weeps
As I'm sitting here doing nothing but aging
Still my guitar gently weeps
Jake Shimabukuro's Weeping Ukelele
Here's further proof of the power of musical arrangement. Of course, musical virtuosity is also a large factor in the case of Jake Shimabukuro's sweet version of Harrison's classic tune. A native from Honolulu, Hawai'i, Jake became an international phenomenon after someone posted his take of the tune on YouTube and it went viral.
"At the time, I didn't even know what YouTube was," Jake laughs. "Nobody did, especially in Hawai'i. But, I had some friends who were going to college on the mainland and they sent me a link to the video. By the time I saw it, it already had millions of views. My name wasn't even on it then. All it said was "Asian guy shreds on ukelele" or something like that. It was a big turning point for me." Source: jakeshimabukuro.com
What I found interesting about the Jake connection is that Harrison loved playing the uke. He grew up in the 1940?s listening to the music of Lancashire comedian, George Formby, and developed an enthusiasm for ukulele that would last the rest of his life. There are stories from his family and friends about George passing out ukeleles to folks after dinner for some music and relaxation. He even played ukulele on a track from his final album, Brainwashed, that was released after his death in 2001.
Live in Japan
Now, let's bring it back full circle to George Harrison's own live version of "While My Guitar gently weeps." In 1991, Harrison was convinced by his close friend, Eric Clapton, to tour Japan with him. The album was recorded during his and Clapton's joint Japanese tour in December 1991, and it contains a selection of Harrison's hits as a solo artist alongside some of his best-known Beatles songs. The experience proved to be an enjoyable one for George.
In July 1992, he released a live double album, Live in Japan. It was his last album to be released before his death in 2001. Sounds like he and Eric thoroughly enjoyed themselves tearing it up on the guitar solo section. And, it was fitting that they played it together on stage for the gig. After all, years earlier George had asked Eric to come into the Apple studio to record that famously wailing lead guitar solo. Thank you, George and Eric!