I wrote Thread of Love in the early 2000s. It was the first song I co-wrote with Doug Von Koss of the Noah Project. I had heard of Doug from a friend. Immediately, I began driving over to the San Francisco Bay area to join in the men's singing circle. I have come to treasure my time with the men of the Noah Project. They gather twice a month at the Finnish Hall in Berkeley. What a blessing to have the opportunity to experience so many glorious evenings of singing and connecting with other men. It is a glorious 'perfection-free zone', as Doug likes to call it.
The Birth of Thread of Love
One Sunday evening in the smaller social room upstairs, I experienced one of those rare times when the magic was just right. Doug played the piano and led us in singing a song I had never heard before. It was based on a poem by William Stafford titled, "The Way It Is."
The melody was from an old African-American spiritual, titled There is a Balm in Gilead which has been in the public domain since earlier last century.
I was so captivated and deeply moved that the short song stuck in my mind and heart. I sang it on the long drive home that night. Within a few days, I wrote a whole new song with melody and verses and the original piece as the chorus. I have grown very fond of this song over time and have shared it with a number of people since then. I really wanted to record it to share it with even more folks. However, I let it sit on the shelf because of my concern around copyright issues with Stafford's poem and how to deal with that.
Dealing with Legalities
Earlier this year, I finally researched and discovered that William Stafford's son, Kim Stafford, is a professor of literature at the Lewis and Clark College in Portland, Oregon. Kim serves as literary executor for the Estate of William Stafford, so I contacted him to inquire about how to receive permission to publish my Thread of Love song. It contains a few lines from one of his father's poems. I had a short conversation with him on the phone. He was very gracious and supportive. I recall that he said something to the effect that his father "liked to encourage folks in their creative endeavors."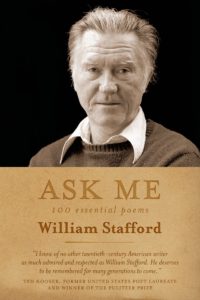 Kim told me to contact Fred Courtright whose business, The Permissions Company, is the rights agency for Graywolf Press. After a short wait, I received the official letter that granted me permission to publish Thread of Love. I extend my heartfelt thank you to Kim and Fred for helping to make it possible for me to record this song. Finally, I'll be able to bring the message of this song to even more folks around the world.
Gratitude for Inspiration and Grace
I am very grateful to be recording Thread of Love in the studio this summer. It will be included on my new album, In a Circle. I will be honored to have some of William Stafford's words in the mix, along with my own.
"There is a thread of love we follow
It goes among things that change
There is thread of love we follow
When we hold on, we cannot get lost"*
*Credit: Inspired by William Stafford's, "The Way It Is", reprinted in Ask Me: 100 Essential Poems. Copyright 1998 by the Estate of William Stafford. Used with the permission of The Permissions Company, Inc. on behalf of Graywolf Press, Minneapolis, Minnesota, www.graywolfpress.org.