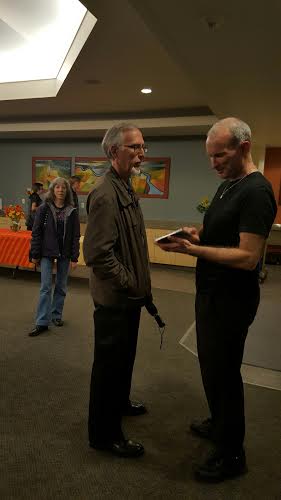 Saturday, April 9, 2016
I went to hear Fred Small, folk singer-songwriter and former Unitarian Universalist minister, in concert over in Davis tonight. Fred's been recording and playing socially conscious music since the early 80's and has had his tunes covered by the likes of Pete Seeger, Rosalie Sorrels, and others.
Great concert, Fred! It was great to sing some of your songs with you, as a member of the friendly audience. The concert was billed as Fred's last concert, as he is now devoting his energy to climate change activism in Boston. I met with Fred briefly after the concert to acknowledge his musical service and gifted him with my CD, Older and Wiser. Thank you for all the great tunes, Fred! May your heart and soul continue to sing out, as guided by Spirit!
Click here to read about Fred Small.