I'm a big fan of classic children's fiction such as The Wind in the Willows by Kenneth Grahame and The Hobbit by J.R.R. Tolkien, as well as modern children's fiction such as Guardians of Ga'hoole by Kathryn Lasky and The Great Tree of Avalon by T.A. Barron. Owls at Twilight is the first children's song I've written. Back in the 80s, my sister, Camile, sent me a very short story written by her son, Michael, who was around five years old at the time. The pure imagination of his story inspired me to write a song, based upon it. He lived on a mountain in northern Idaho with his mom and dad, so he had a strong connection to the natural world around him.
After I recorded Owls at Twilight for my Older and Wiser project, I sent a copy of the cassette tape to my nephew, Michael, for a Christmas present. Here's the rest of the story, according to my sister, who was a witness at the unveiling.
Michael's Story
"It was Christmas Eve and we had been opening presents for some time. Michael was starting to fade out, so I figured we'd do the rest of them on Christmas Day. But, I wanted him to open one more present, your music tape. I had already listened to it before wrapping and had it cued up to his song, Owls at Twilight.
At the first words of the song, his eyes opened wide and he said "That's my poem!!!" Michael listened to the whole thing in rapt attention and then wanted to hear it again…and again. I finally got him off to bed with the promise that it would still be there in the morning. He played it many times on his little tape player. It was the best gift you could have given him. I still have the tape somewhere and can hear the song in my head. It's a wonderful reminder of when he was truly mine and we were connected heart and soul. I miss that."
Children's Music
I would enjoy recording a whole album of music for kids with simple and intelligent lyrics about family, nature, learning about life, and FUN. Two of my favorite songwriters for kids are Raffi and Tom Chapin. I've been a big fan of Raffi for years. In my opinion, he is one of the best songwriters for kids, due to solid musical arrangements with talented musicians and his ability to weave tenderness with strength. Tom Chapin's classic song, You're Not the Boss of My Brain, strikes me as an anthem of truth and freedom for kids and sung by kids.
After writing Owls at Twilight, I was reminded of a whimsical song recorded by the Moody Blues called, Nice to Be Here.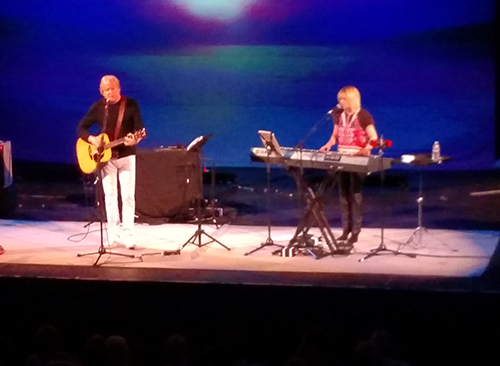 And, speaking of the Moody Blues, Dena and I heard Justin Hayward play a solo concert at the Crest Theater in Sacramento this week. He played a great show with a lot of old hits by the Moodies and a few newer tunes from his solo career.
I would like to someday create a music video around Owls at Twilight. I consider it to be a sweet lullaby for young kids to listen to while they drift off to sleep. I invite you to let that little boy or girl still living within you to enjoy this one.
To enjoy the recorded version of this song from my album, Older and Wiser, click here.
From Older and Wiser liner notes:
I really appreciated Christian's effective keyboard coaching on this one. He really liked the sampled baritone sax and thought the bullfrog was hilarious, as it was placed in the course of the song. Pan pipes and keyboard saxophone rule! What a great blend of play with serious musical creativity. In case you're wondering, the owl, bullfrog, and crickets heard on the song are all recordings of real critters.