How do I live my vision? Just as summer gardens are providing lots of yummy and nourishing food to the folks who tend them at this time of year, working in the studio on my album, In This Circle, continues to feed my soul in so many ways. I've come to the realization that I am the producer and project manager, as well as singer-songwriter-musician, for this project. Wow, that's a lot of hats to wear!
In the Studio: Ken Berger on B3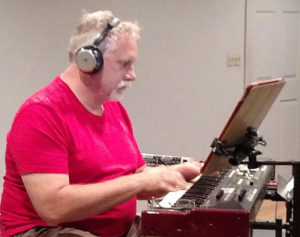 This month, I worked with Ken Berger who recorded some tasty tracks with his nifty digital B3 keyboard.
It's an amazing experience to create an arrangement for a tune, based on what I hear in my 'mind's ear', and then hear it come to life during a recording session. Ken brought his pro attitude to Audio West and we worked through the various challenges of communication while still having fun in the process.
In the Studio: Brian Rogers and Frank Huizar
Also, Brian Rogers (drums) and Frank Huizar (bass) came in to lay down a killer rhythm section groove.
These two local pros brought their good attitudes, strong work ethic, and solid musicianship into the studio.
I worked in the past with Brian who played drums in the house band at Center for Spiritual Awareness and that was a blast. He had the privilege of playing at a few Bernie Sanders rallies earlier this year and said that was a career highlight for him. He continues to play in various local musical combos and always brings an upbeat, positive vibe to the party.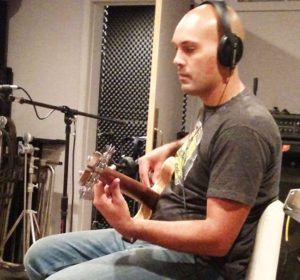 Frank has recently re-joined the Soulshakers, a local blues/funk/rock band, after a long sabbatical and is gigging again with them in the area. I really enjoyed his bass grooves in the studio, especially on his classic Fender fretless bass. It's always good to have a seasoned bass player who can hold it steady and throw down the funk!
Another part of my vision fed
As an additional musical treat, I worked with one of my favorite musical cohorts, Joe E Franklin, who asked me to help him tighten up a new tune he wrote and we played it together in the Conscious Community circle. Another classic from a great local songwriter!