Laurel and Hardy Dance to Santana
I love this YouTube video mashup as Laurel and Hardy dance to Santana's catchy tune, Oye Como Va. When I'm taking life way too seriously, I can watch this to put a smile on my face and feel light-hearted.
When I watched it for the first time, I was dubious that it would work. However, the combination of Stan and Ollie's graceful dancing and prancing about with Latin percussion, bubbly organ and fluid Santana guitar licks is sheer joy. I view this as two old friends letting their little boys have fun moving to the music. If you haven't seen this before, have fun! If you've seen it already, just let it roll and dance along.
Yodeling Ragtime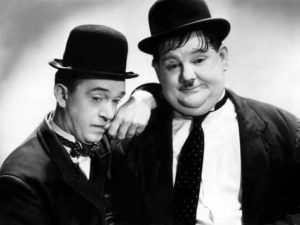 Next, for all you cowboy music fans, here's the original film clip from that same Laurel and Hardy film, Way Out West. The film was released in 1937. The music for the clip features T. Marvin Hatley with The Avalon Boys. And, the yodeling cowboy is none other than Chill Wills, a character actor who appeared in many western movies and T.V. shows from the 1930?s up through the 1970?s.
The Avalon Boys was formed by Wills and he also provided the bass singing voice for Stan Laurel in this film. As I researched further, I discovered that this film scene is an odd pastiche. Here's a group of cowboys singing and yodeling out a ragtime show tune written by an African American composer in the early 1900s with dancing provided by an early Hollywood comedy duo. So, it turns out that this one is clearly a different kind of cultural mashup than the 21st century Santana version.
Take your partner and you hold her, lightly enfold her
A little bolder, just work your shoulder
Snap your fingers one and all in the hall at the ball, that's all, some ball
John Leubrie Hill, the black George M. Cohan
The song that Stan and Ollie are dancing to in the original film clip was written by John Leubrie Hill, an early African American stage performer and songwriter from Memphis, Tennessee. According to accounts, Mr. Hill was one of the most successful ragtime songwriters in the business. Published and promoted by Jerome H. Remick & Co., he wrote both music and lyrics, which described the dance that Laurel and Hardy do. Meanwhile, individual performers began to interpolate his songs into their vaudeville acts and Broadway appearances.
"In the early 1900?s, he was sometimes referred to as the "black George M. Cohan." In collaboration first with Alex Rogers and later with J. Rosamond Johnson, Hill wrote songs and entire plays for the touring African American theater and tent shows of his day, working with top performers like Bert Williams. In 1913, Hill produced and starred in the successful Harlem show My Friend From Kentucky, which included At The Ball, That's All. Broadway impresario, Florenz Ziegfeld, purchased the rights to the song for his next review, and it eventually made it into a 1937 Laurel and Hardy film called Way Out West. J. Leubrie Hill died in 1916."
Source -TimOBrien.net
Poetry Spotlight: Cradled in Grace
I wrote this poem after walking in downtown Sacramento and observing a bird sitting in the grass near the sidewalk. At first glance, I thought it was alive and then realized it was dead. The contrast inspired me to reflect on the mystery of life and death and what comes after.
CRADLED IN GRACE
Written by Marshal Jon McKitrick
January 6, 2003
The grackle sits
Upright and still
On the grass
As I walk by
Dark feathers
With flecks of gold
I expect it
To startle and fly
Or at least
To walk away from me
In shy fear
I stop and look more closely
Realizing the bird is dead
No spark left in the body
With no special ceremony
Or ritual attended
                                                                                                                              Its life force has made                                                                                                                             One giant flutter of wings
Back to Infinite Source
I appear to be the only witness
To the way the grass
Tenderly cradles
The left behind remains
In its green blades
An offering
In remembrance of life
And its sudden ending
Followed by unknown grace