All Work and Not Enough Play…
I have learned that all work and not enough play, is not conducive to my positive mental health. Further, all play, and some enjoyable work makes for positive pastime. Earlier this month, Dena and I attended the annual Feathers of Freedom family camp for the second year in a row. The camp is held at Silver Lake up in the High Sierra at an elevation of 7,300 feet! It was all about freedom and play.
Playing Music at Camp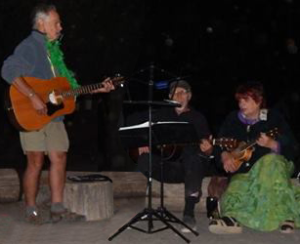 I was asked by Laurie Story Vela, the camp's director and guide, to provide music for the campfire on Friday and Saturday nights. Also, I was invited to provide music at some of the various camp activities for the young kids.
So, I perused my songbooks on Friday afternoon to prepare for the campfire circle that night. A couple of guitar playing friends joined me and we had fun jamming and selecting songs to share with folks. I had forgotten how much fun it is to play guitar at night around the campfire. And, I had a laugh after hearing some of the campers thank Laurie for hiring such a great band to play.
Talented Teen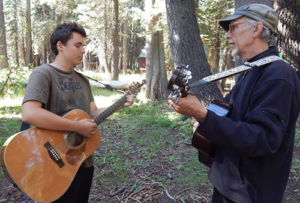 Also noteworthy was playing guitar with Jeremiah, Laurie's musically talented son. He's a fun loving multi-instrumentalist teen who has a penchant for music from the 60s and 70s.
We've had great fun in the past playing tunes like Bad Moon Rising by Creedence Clearwater Revival or More Than a Feeling by Boston.
This time around, we had fun playing and discussing guitar chords for a classic Jimi Hendrix tune, Angel. I never imagined that many years later after I learned to play guitar in high school, I would be playing that tune with a young guitar fan of Jimi's. Rather strange and wonderful, both at the same time!
Finally, I had even more fun playing music for the young kid's during their special Teddy Bear Picnic, complete with snacks and songs. Jeremiah and I sang and played a campy version of the Teddy Bear's Picnic.
We followed that up with an inspired round of The Bare Necessities, the perfect closer for that gathering of young bear fans.
Ah, yes, good summer camp memories to savor!