As with some other songs of mine, I was inspired to write Four Corners by my observations of and inspiration by the natural world around me. I wrote it during the end of year holiday season in 1989.
Flying Over Four Corners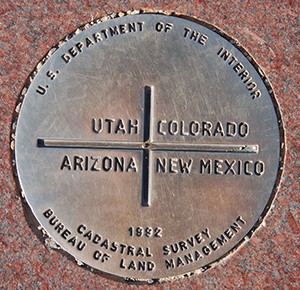 The song came to me while I was traveling home on a plane to California from visiting family on the East Coast. As the flight path took me over the Four Corners area of the American Southwest, it was late afternoon. There was enough daylight left to see out my window to the mountains far below. I noticed a few house or road lights down near the foot of a mountain and a frozen river running through the landscape. Voila; the first verse of the song appeared from a visual out the plane's window.
"Lonely light at the foot of a mountain
Shrinking star on the pale purple snow
White cloud hills cover stone-cold floors
River lines frozen below"
I wanted to express something about the sacred nature of the Four Corners area. In a way, I tried to do so in the song's bridge by giving a voice to its ancient Spirit.
"I'm still here when you're a memory
I've been here a long, long time.."
Influenced by John
As a songwriter-singer- musician, I easily admit to being influenced by the style of various other popular singer-songwriters, especially from the 60s and 70s. So, I haven't been surprised over the years to hear some folks compare my nature songs (like Four Corners) to the songs of John Denver. Here's a version of John's song, To the Wild Country, off of his 1977 album, I Want to Live. I'm still a great appreciator of his musical spirit and the vision he generously shared with this world. Thank you, John!
If you wish to read the liner notes for Four Corners from my album, Older and Wiser, click here.