I wrote Daddy's Symphony back in the mid 80s. I was in the early stages of a productive songwriting period at that time in my life and had not yet written and recorded the songs that appear on my Older and Wiser release. I was renting out a small and sparsely furnished upstairs room in an old Victorian house located on the eastern edge of Midtown Sacramento. I still think of that room as the 'writer's attic.' I must have been having a nostalgic memory of my father playing classical piano music in our house when I was a kid. When you listen to this song, you will hear melodic excerpts from three different classical compositions. I was inspired to include those in the melody of the song in honor of my father's love for classical music. If you really want to test your classical music prowess, see if you can guess all three pieces.
Daddy's Symphony – My Dad's Story
We had one baby grand piano in the house during my grade school years. It was a high school graduation gift from my grandmother to my father. I recall that my siblings and I were allowed to play the piano, as long as we were respectful and didn't 'bang the keys.' I taught myself how to play John Lennon's song, Imagine, on that same piano. Later, in my high school years, my father purchased a second baby grand piano and both pianos lived in the front music room.
My father played various musical genres of piano music: classical, show tunes, popular, and liturgical ('church music'). He took piano lessons from his mother in his younger years up through high school. According to one family legend, he had aspirations to become a concert pianist. However, before he went into the Army during WWII, he had a calling to become a minister. In reminiscing about his young adult years, he did say something about not being able to support a family on music alone. I do know that after his military service, he obtained a double major in college; one major in Divinity and one in Music.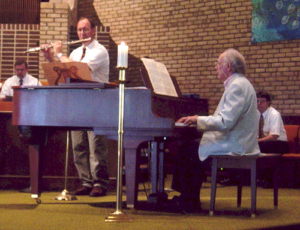 My father was one busy guy between the music and the preaching! As the result of being a preacher's kid and going to church on a regular basis, I wound up singing in church choirs since my father was both the minister and the choir director. From my choir experience, I learned how to sight read choral music. Best of all, I learned how to sing harmony in a group and that skill has come in handy over the years in singing with others and even singing my own back up vocals in the studio. Thank you, Dad!
He was a competent, proficient player and even taught a number of piano students over the years, both older and younger. I remember him playing breezy, fun show tunes from musicals like Oklahoma and The Sound of Music. He was a big Rodgers and Hammerstein fan like a lot of adults of that generation. He could go from playing a tender song like, If I Loved You (from Carousel), to playing a rousing version of Gershwin's, Rhapsody in Blue. Most of all, I remember my father playing the standard version of a tune and then messing around on the keyboard, making up stuff – his own 'Daddy's Symphony'. He was a big fan of Victor Borge, the great musical humorist and pianist and I think that showed up when my father would improvise at the keyboard.
This song also refers to my sister, Camile, who was the one that inspired me to begin playing guitar at 16 years old while I was recovering with a leg cast from a skiing accident and had nothing better to do. Thank you, Sis! Along with the verse about my sister and I singing together, I wrote a verse about my son, Kabir, and I sharing our individual poetry with a group of fellow creative folks. He is a young, talented and upcoming writer and I'm very proud of him living his vision. I also appreciate him continuing our family tradition of creative expression.
I encourage everyone to listen to and enjoy your own life's 'symphony', whatever that might be for you.