Beauty Rises Forth was born out of a visit to the Garden of Saints which is located at the Vedanta Society of Sacramento.
I think it was either in the spring or the summer of 2009 that I heard from a friend about an open meditation garden. My spiritual curiosity was stirred. So, one beautiful day, I took my wife for a trip out to Carmichael to check it out. Most noteworthy, the lotus blossoms were out in full bloom in the pool under the grandmother willow tree. Dragonflies danced above and around the lotus flowers. At the same time, I was delighted to see large koi fish drifting lazily in the pool below.

In the Garden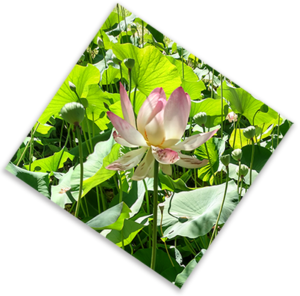 The essence of Beauty Rises Forth is its chorus. "From the mud deep below, Beauty rises forth. Out of Great Mystery blossoms Divine worth." As I stood by the lotus blossom pond, taking in their stunning beauty, I visualized their roots down in the mud below the water.
I considered how similar human spiritual growth is to those lotus blossoms. I concluded that the lotus blossoms must have mud, water, koi fish, and dragonflies to support their growth. In a similar way, I have the roots of my physical being grounded in the mud of this physical world.
Out of that muddy matrix of life, I've grown. I am supported by the rich nutrients as I grow as a human being. Finally, I am empowered to express my Divine worth to the world and my Creator via the blossoming of my soul.
Spiritual Inspiration
I was inspired by the peaceful feeling emanating from the sacred statuary of both eastern and western saints from various world faith traditions. And, the statuary on the grounds is thoughtfully woven on pathways amongst large trees, roses, and other flowering plants.
Also, I appreciated the meditation benches stationed in the shade near the water lily pond. They are the perfect spot to sit and contemplate the garden's natural wonder and beauty.
I will admit to a bit of embroidering in the lyrics of Beauty Rises Forth regarding naming the various saints and spiritual teachers represented by statuary. You won't find a Buddha or a Kuan Yin statue in that garden. However, I was drawn to the full-sized statue of Krishna playing flute in the gazebo surrounded by the water lily pond. And, I found myself humbly grounded by the simple bas relief depiction of Saint Francis of Assisi.
May you always be reminded of and guided to your own beauty among the garden of Great Spirit.