Jesse live at the State Theatre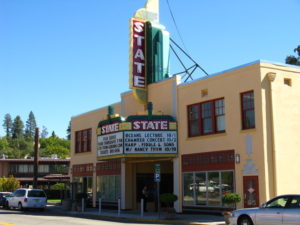 Last weekend, I went to hear Jesse Colin Young in concert up in the Gold Country foothills at the State Theatre in Auburn. I was accompanied by a good friend, who is also a guitar player and fellow songwriter. Great place to see and hear a show! The theatre is yet another old art deco style cinema built in the 1930s, similar to The Crest Theatre in downtown Sacramento. The State Theatre was converted to a duplex in the early 70s. However, the Auburn Placer Performing Arts Center, Inc. purchased the theatre in 2006 and began reconstruction to restore it to the original layout. Here's how it looks these days.
Everybody Get Together…
In his early career during the mid 1960s, Jesse was a moderately successful folk artist who played folk clubs in Greenwich Village in New York. He had already released two solo albums when he met Jerry Corbitt and they began performing as a duo on the Canadian circuit. Shortly, thereafter, two other musicians joined them and they became Jesse Colin Young and the Youngbloods (aka The Youngbloods). Their only top 40 hit on the U.S. charts was Get Together which still stands as a classic 60?s anthem about peace, love, and unity. (Source: *Wikipedia)
Jesse started out the concert in Auburn- with a short, well-paced solo acoustic set and performed a tasty handful of original tunes. According to him, one of the tunes (Sunlight) was the first song he wrote after moving to California from New York in June 1967, during the Summer of Love.
Juli is 50, now…
In the second longer set, Jesse came back out on stage and brought with him a great band of young musicians. The band features his son, Tristan, on bass guitar, along with other solid musicians in the line up (saxophone, electric guitar, keyboard, drums, and two back up vocalists.) For me, the highlights of this part of the show were Get Together (complete with audience participation), Statesboro Blues (soul shaking solo by the lead guitar player), Ridgetop, What's Goin? On (Mercy, Mercy Me), and Darkness, Darkness. At one point in the show, someone from the audience called out to hear Song for Juli, a song that Jesse wrote for his daughter. He politely ignored the request by smiling and simply saying, "She's 50 now."
Darkness, Darkness
My personal favorite of all of Jesse's songs is Darkness, Darkness. I've always loved the way the fiddle and drum kick off the original studio version of the tune. Recently, I learned that legendary country music artists, Charlie Daniels, played fiddle on that tune, and produced The Youngbloods' album (Elephant Mountain) that the song appeared on.
In an interview with Ray Shasho, Jesse explained the song's genesis:

It was written in New York although it drew its inspiration from listening to KSAN Radio in San Francisco.

"I spent one sleepless night thinking about my friends who were in Vietnam and how terrifying it must be. So much of the fighting was done at night and 'Darkness Darkness' came out of that sleepless night. I tried to put myself in their shoes."
Source: Songfacts.com
You'll find some interesting covers of Darkness, Darkness by Richie Havens, Richard Shindell, and Robert Plant on YouTube. I really enjoyed the version by Richie Havens.
Here's a live version of the song with Jesse and his currently touring band from earlier this year.
To read a great interview with Jesse with more details of his musical journey, click here.