Happy Anniversary
Dena and I celebrated our 12th year wedding anniversary this week on December 19th.
I am truly blessed to be in partnership with a conscious, compassionate woman who is aware and spiritually evolving. One thing I have learned over the past 12 years is that I don't have to be perfect in order to love and be loved. I think Dena also has this understanding. I've also learned that it's important to maintain a sense of humor, while being honest with myself and with her.
We have enjoyed co-writing a number of songs over the last five or so years of growing and playing music together. It's been a great experience for us, overall, even with the challenges of different musical styles and life viewpoints.
The Blah Blah Song
I think that one of our best songs is The Blah Blah Song. This song speaks to the challenges that people in relationship have with listening to and being heard by each other. I thought it would be timely and appropriate to share it with you this week. If you find yourself laughing while listening, you are in good company! It seems to be a common response from others when we sing it for folks. To hear a live version of The Blah Blah Song, listen below. Enjoy the tune! And, remember, laughter is good medicine.
Song Spotlight: A Tango Twice
A few years ago, Dena and I were inspired to spirit-size an older song written by Tom Lehrer in the late 1950?s. It's called The Masochism Tango. I invite you to check out Mr. Lehrer's solo version below.
Pacifism Tango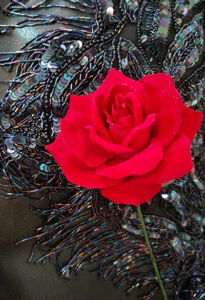 Our version is called The Pacifism Tango. We liked the original dramatic musical setting and wanted to expand upon it with a positive social twist. We had read about the correspondence between Mahatma Gandhi and Leo Tolstoy, the author of War and Peace. Apparently, Gandhi was influenced and inspired by Tolstoy's political theory of Non-resistance.
"This Non-resistance however, according to Tolstoy, does not mean the victory of evil accepted with fatalism, but on the contrary, its destruction by the refusal to cooperate with injustice. According to the doctrine of Non-resistance it is necessary to struggle using just means against injustice in all social, political and economic fields of human life."
When we performed The Pacifism Tango live, Dena wore a long, black dress with a feather boa while holding a rose in her teeth. I played guitar with flamenco flourishes while our musical compadre, Bruce O'Brien, joined us by playing his best gypsy-style violin. To hear a live recording of the song, listen below:
Tolstoy taught the steps to a new dance
Gandhi gave us hope for a new chance
Lay down to fight and hold on real tight
Resistance in the Pacifism Tango
Let's dance to the Pacifism Tango!