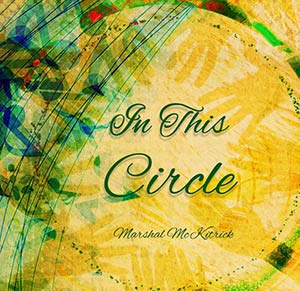 Gearing up for the big "In This Circle" album release party! Click here to find out more, and purchase your ticket to attend.
Marshal McKitrick is Meadowlark Tunes. His Spirit name is Meadowlark, as music is his passion. He grew up in the midwest in a musical family, singing in church choirs and playing on the family piano. He's been playing guitar for over 37 years while writing his own material. He has inspired and amused folks with a wealth of songs, ranging from ballad to social broadside. His musical style is nourished by roots that run deep in folk, rock, pop, blues, country, jazz, world music, and children's music. His ability to connect the song with the occasion in a variety of different venues creates a singular wedding ceremony, an intimate house party, or an eclectic spiritual celebration.
Marshal has performed solo in a variety of venues, as well as with various other musicians. He has also co-led Community Kiirtans with his wife, Dena, and the Souls Journey music collective. In the fall of 2011, Marshal and Dena created a change up with the community kiirtan collective and started the band known as Souls Journey.  The band currently performs in the Sacramento area. Their music is also to be published under the Meadowlark Tunes label.
He loves to sing lead and back-up vocals, play rhythm and finger-picking style guitar, enjoys playing keyboard and whistling. His current passion is improving his skill as a lead player on both the electric and acoustic guitars. Marshal is an expressive poet and songwriter.
In May 2013, Marshal released a retrospective collection of original songs called: Older and Wiser (The Bender Studio Sessions: 1988-1991). Click the Older and Wiser CD button on this page to hear song clips and peruse the liner notes.
There have been a lot of changes happening for Marshal these days. In recognition of that, click the play button below to hear an original tune called No Changing the Truth.